Dragons are back at Bodiam!
Posted on Wednesday, July 28th, 2010
---
Hi again.
You know, I just can't keep away from Bodiam Castle.  I think it's got to be one of my favourite places in England.  But even better, my friends and I get to dress up as characters from my Shadow books and storm the castle!
Our next date appearing there is Wednesday, 4th of August 2010 for the Fun Day event!  I'll be there with my knights and a few dragons. But also, another dear friend and writer, Jill Hucklesby will be there with me. She'll also all decked out in her medieval finest! Last time I saw Jill, she was dressed as a dragon! (Yes, that's her there)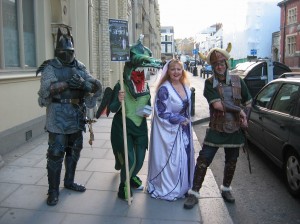 We'll both be reading from our books and meeting and greeting our fans.
Here is a picture from the last time we did it.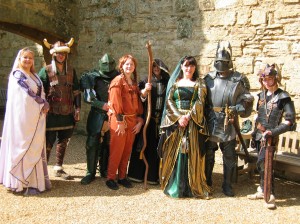 With only a week to go, I'm getting very excited. I really hope some of you can come along and say HI! And if you're really good, I can introduce you to Lord Dorcon who will be there trying very hard to kill Kira! (He can try all he wants, she will always outsmart him…)
See you there…